Label Pouch Carton Dispensing Machine
Label Pouch Carton Dispensing Machine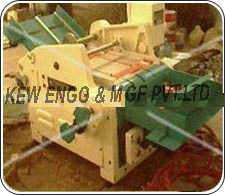 SPECIFICATION
OVERALL DIMENSION :
860MM(W)X 500MM(B) X 450 MM(H). MOC. M.S. COLOUR COATED BODY WITH S.S. RUNWAY WITH SINGLE PHASE 440V, 50 HZ., OPERATED COMPACT M/C. WITH ADJUSTABLE GUIDE, We are also manufacturer of
Web Guiding System
for different Industry.
 Speed :
VARIABLE SPEED
 VIBRATIONLESS MOTION WHICH GIVES THE BEST COADING THRUE OUT THE LENGTH.
EXTRA FEEDER PLATE FOR RESTING THE BUNCH OF PRODUCT AND SLOPER OUTPUT PLATE FOR PRODUCT EASY OUTWARD
.
 Note :
THE EDGE OF THE LABLE / POUCH SHOULD BE STRIGTNED